Practitioners in South Africa
Maria Gerondoudis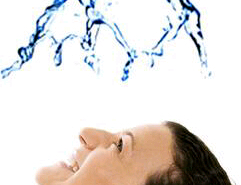 Maria is a hydrotherapist with specialised training, skills and over 10 years of experience in the field. She has pioneered techniques for pain conditions and athletic injuries. Following her training in dolphin-assisted therapy, she is currently breaking new ground exploring the use of cetacean ultrasound as an adjunct to hydrotherapy treatment in a clinical environment. Her technique has been rated one of the top ten holistic therapies in the country and has been featured twice in the South African Journal of Natural Medicine.
Maria has presented her work at 2 international conferences and has taught for the South African Society of Physiotherapy (SASP), the Professional Aquatics Association of South Africa (PAASA), the South African Water Fitness Association (SAWFA), the South African Academy of Shiatsu, and presented at Aquatic Therapy Awareness Week and the National Disabilities Expo. She has been interviewed by Radio 702, Cape Talk Radio, the Centre for Depression and Anxiety, and Carte Blanche.
She contributes to research and studies nationally and worldwide and was a founder of the Hydrotherapy and Aquatic Bodywork Association of South Africa (HABASA).
Contact details:
Address: Morningside Medi-Clinic, cnr Rivonia and Hill Rd, Morningside, Johannesburg
Tel: +27 (0) 11 883-9000
Mob: + 27 (0) 84 847 9858
E-mail: aquamaya@gmail.com
Andrea Varnava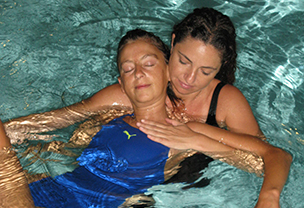 Andrea is a certified reflexologist and massage therapist and has been practicing since 2001. She has worked as a therapist at various spas including 12 Apostles and The Arabella Sheraton in Cape Town. She runs her own mobile massage practice.
Aquatic Bodywork was a natural progression for incorporating her skills with the healing ability in the water. Andrea was introduced to aquatic bodywork in 2006 and qualified as a practitioner with HABASA in 2009.
Contact details:
Address: Triba wellness centre, 39 St Albans Ave, Craighall Park, Gauteng.
Tel: +27 (0)83 601 4934 Fax: +27 (0)11 838 3982
Email: andrea@massageonthemove.co.za
Santi Hill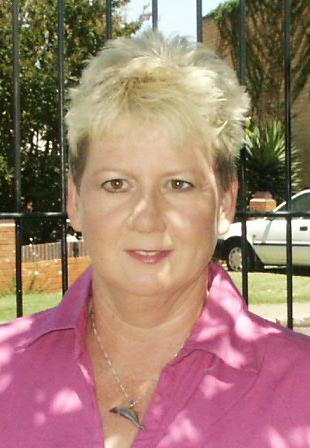 Santi has been in the fitness industry since 1992 and is an internationally qualified Aquatic Bodywork practitioner, Hydrotherapist and Aquatic fitness instructor specialising in post surgery rehabilitation, sports injuries, aquatic rehabilitation, water pilates, and relaxation techniques.
Contact details:
Address:S A Olympic Health World, 25 New Market Estates, cnr.Derby and Heidelberg Roads, New Market, Alberton, Gauteng
Telephone: +27 (0)73 141 8866

Eliana Botha
Eliana is a qualified baby swimming teacher and since 1996 has specialised in baby classes. She qualified as an aquatic bodywork practitioner through the Hydrotherapy Association of South Africa in October 2013.
Contact details:
Address: 41 Jan Kemp Road, Rooihuiskraal, Centurion, Gauteng.
Tel: +27 (0)73 138 5111 Landline: +27(0)12 661 7890 Fax: +27 (0)86 6111 046
Email: pexbotha@gmail.com

Merwelene van der Merwe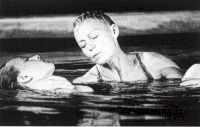 Merwelene is a renowned South African photographer that was first introduced to Watsu at Harbin Hot Springs in California, USA in 1986. This form of water therapy was unheard of in South Africa and was such a powerful influence that she returned to Harbin Hot Springs many years later to study Watsu and bring it home. Merwelene qualified as a Watsu practitioner in 1998 and offers it at her home in Hurlingham, Johannesburg.
Contact details:
Address: 22 Liebensraum Place, Hurlingham, Johannesburg
Telephone: +27 (0)11 886-7886
Fax: +27 (0)11 886-8463
Laura Sevenus
Laura studied Watsu with Harold Dull in the USA and returned to Cape Town to offer it from her Camps Bay home. She offers swimming tuition and aqua therapy and specialises in baby classes. She has recently opened acentre in the UK.
Contact details:
Address: 12 The Meadows, Camps Bay, Cape Town
Telephone: +27 (0)21 438-1074
E-mail: laura@lsss.co.za
Practioners Worldwide
Visit: www.waba.edu